Android and iOS are the two leading development platforms. Android is leading with almost 2.9 Million apps while iOS has only 1.85 Million apps. Even though Android has more apps, iOS definitely has better apps in the store for its users. iPhone app developers have to pay extra attention while developing apps because of the strict guidelines that Apple has made.
iPhone users can easily spend money using an app which increases the chances to make easy money from the app. There are various other astonishing factors showing why you should develop a mobile application for the iOS platform. Take a look.
Reasons for Developing an iOS App
1. Better Revenue Generation
The core agenda behind developing an app is to make money from it. Well, it is easier to make money from an iOS app. It is proven that iPhone users are willing to pay more money for paid apps. Even after paying for the apps, they also pay for the extra features. Android users don't pay up easily for the apps or even for the extra features. Even the number of paid apps is more in the Apple store compared to Google Play Store.
Here, take a look at the chart from Statista showing paid and free apps in Google Play Store and Apple App Store.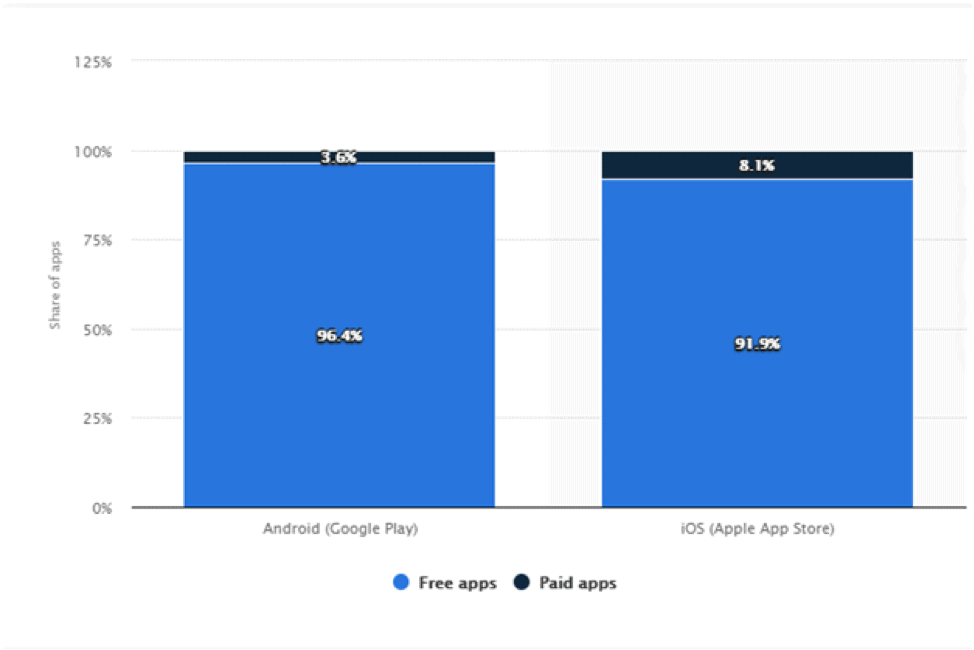 (Source: https://www.statista.com/statistics/263797/number-of-applications-for-mobile-phones/)
It's very simple why Android users spend less compared to iOS app users. Most Android devices are budget-friendly and available to various types of customers. The majority of such people are not interested in high specifications and avoid spending money on mobile apps.
On the contrary, users with iPhone and iPad devices have a higher budget and can easily spend money on applications. This gives higher chances the iOS app developers to make money from the apps
2. Fewer Devices to Support
Developing an iOS app is not only beneficial from a monetary perspective it also has a technical advantage by its side. iOS has a limited set of devices to make its apps compatible with. Apple is the only manufacturer of these devices which makes it easy for the developer to create an app. This way the app is available globally to a wider set of audience.
In the case of Apple devices, the app has to support only current iPhone models and some of the previous ones. The present list of devices including iPhone SE, 11 Pro Max, 11 Pro, 11, XR, XS, XS Max, X, 8, 8+, 7, 7+, 6, 6+, 6S, 6S +, 5C, 5S, SE, and 5.
When it comes to Android, device fragmentation is extreme. Developing an app that supports and works well with all of them is difficult. Android has a plethora of manufacturers building phones with different configurations and screen sizes. It's nearly impossible to create an application that fits well in all of them. This is definitely not the case with iOS app development.
3. Devices Support the Latest iOS Version
We just discussed the lesser device fragmentation. Here we are discussing the latest versions of iOS. If an iPhone developer develops an app for iOS 11 and iOS 10, it will reach more than 90% of the users. If you cover iOS 9, it automatically covers the entire iOS market.
Now, coming to Android has high fragmentation in OS as well. Very few devices support the latest version of the Android OS. And, hence a very limited set of users have access to the latest version with advanced features. Older Android smartphones do not receive any updates and work on the same older versions until the user buys a new and latest device. Because of high fragmentation, the market has many versions of operating systems by various users.
This makes the development highly complicated for Android. This is why Android development might cost more than the cost to build an iOS app. iOS development doesn't need to maintain a large number of operating systems and longer testing cycles. The lower the cost, the better the revenue generation chance of the iPhone apps. So, when there is a question of whether to choose iOS or Android app development, the first priority must be iOS.
4. Enhanced Security
One of the most popular ways of hacking into the Android system is through hacking the firmware of the device. Android is open-source and hence more prone to security threats. iOS is not an open-source platform which makes it more secure. There are iOS devices with cracked firmware but the number is decreasing with each passing day. The operating system is becoming more stable and safe with each passing day avoiding every need to do a jailbreak. Apple is very delicately handling vulnerability and loopholes in security.
5. iPhone Apps are Simply Great
One of the best reasons to develop a mobile app for the iOS platform is that the iPhone app is awesome. Android users are very cautious before they pay for an app. They think multiple times, check the demo version and then make a payment. This is because Google Play Store has plenty of apps, some good and some bad. This is probably because of the moderation policy. Android apps are automatically checked a few hours after submission and get published.
In the case of the Apple App Store, the app gets checked manually and the entire process takes a couple of days. This ensures the app in the Apple store is good and if it were not, they get rejected during the moderation process. Even the app submission guidelines are also very strict. Users can easily lay trust in the app and appreciate the quality of apps in the Store. This makes iOS apps simply great. Developers take extra care in iPhone app development to keep their users happy and satisfied.
Final Words
iOS is undeniably the first choice for developing a mobile app. The above points clearly suggest why iOS development is better than Android and users trust iPhone apps more.